Update Required
To play the media you will need to either update your browser to a recent version or update your
Flash plugin
.
buy records
buy mp3
ON TOUR
17.10.14 London (uk) - Union Chapel
19.11.14 Opwijk / Brussels (bel) - Nijdrop
20.11.14 Offenbach (ger) - Hafen 2
21.11.14 Düsseldorf (ger) - Approximation Festival
22.11.14 Hamburg (ger) - Golem
23.11.14 Leiden (nl) - Qbus Club
10.12.14 Münster (ger) - Westfälisches Landesmuseum
11.12.14 Hannover (ger) - Feinkost Lampe
12.12.14 Dresden (ger) - Scheune
13.12.14 Berlin (ger) - Grüner Salon
14.12.14 Karlsruhe (ger) - Jubez
16.12.14 Bristol (uk) - Cube Cinema
17.12.14 Nottingham (uk) - Nottingham Contemporary
20.12.14 London (uk) - Cafe Oto
24.01.15 Paris (fra) - Beyond My Piano Festival (Le Théâtre des Bouffes du Nord)
20.02.15 Lich (ger) - Kino Traumstern
21.02.15 Nidda (ger) - Parksaal Bad Salzhausen
POPPY ACKROYD + LUMEN - ESCAPEMENT VISUALISED [DVD]
ESCAPEMENT VISUALISED is a collaboration between musician POPPY ACKROYD and visual artist LUMEN.

Poppy Ackroyd's debut album Escapement was released on Denovali Records in December 2012. Having first started composing through collaborations with artists, dancers, and filmmakers, she often dreamed that her first album would be accompanied by a collection of short films, animations or live dance performances. With the release of Escapement Visualised this dream has been realised.
In early 2013 Poppy met visual artist Lumen (Bristol based Tom Newell) when they were both working with HIDDEN ORCHESTRA (Tru Thoughts Records, Denovali Records). Poppy records and tours with the band on keyboards and violin, and Lumen was creating their new audio/visual show, a multi-screen projection-mapping spectacle, using a mixture of his own original footage with innovative use of live cameras, which has drawn enthusiastic responses from audiences around the UK and Europe. Shortly after meeting they decided to work on projections for her solo live performances, which they developed together on tour and over the internet between shows, resulting in Lumen creating a series of short black and white synchronised films for all the tracks on Escapement.

Escapement was created using only sounds from the piano and violin, exploiting the sonic possibilities of these two instruments, using both conventional and unconventional techniques. The result is a delicate, intricate and unique sound world which also features field recordings of rain and birdsong, which add to the cinematic quality of the compositions. Taking a similar approach in the creation of the visuals nothing is digitally created, and the visuals are more abstract mood pieces rather than figurative story arcs. Where the track had a clear story behind it, Lumen has tried to either recreate or be sympathetic to this, in some cases visually realising some of the mental images that were there during the creation of the music. When the compositions had a more abstract feeling and mood, these were taken as starting points. Footage from filming the insides of a piano, or driving through leafy countryside, combined with the use of found footage, reflects the ideas, themes and techniques from the album, and aims to conjure up a similar dreamy nostalgia. Although each of the visual pieces are individual and independent, they are linked by a monochrome aesthetic.
After live performances with the visuals over the last 12 months, requests from audiences have prompted this release of the music and visuals combined...Escapement Visualised.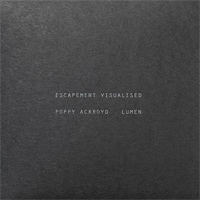 P.A. + LUMEN - ESCAPEMENT VISUALISED
buy dvd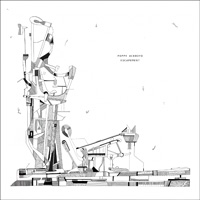 ESCAPEMENT
buy cd · vinyl
· mp3